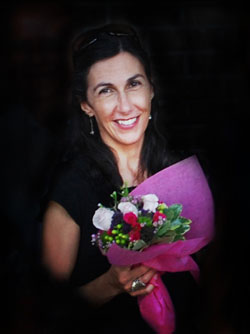 Irene Sainz Mayo was born in New York City and lived in Fort Lee, New Jersey on the Palisades overlooking the Hudson River and Manhattan. She studied Art History and oil painting under noted Cuban artist and professor Daniel Sera-Badue at St. Peter's College.
She subsequently attended the Universidad Autonoma de Centro America in San Jose, Costa Rica, studied watercolor and drawing intensively. She also studied pastel drawing with Jim Theologos at the Centro Cultural in San Pedro, Costa Rica. Upon returning to the United States, she continued her studies at Fordham University and later at Georgia Southern University from which she received a BA in Fine Arts. Savannah became her home in 1987.
Her paintings have been exhibited in various galleries in and near Savannah. Her works have been auctioned for many local fund raising efforts, including the Historic Society, the Ossabaw Island Foundation, the Elizabeth and Curtis Anderson Cancer Institute, the Telfair Ball, the Backus Children's Hospital, and many local schools. Irene's paintings have been purchased for individual art collections nationwide. Irene is the former owner of Sandfly Gallery.
Current landscapes may be seen at:
Reynolds Square Fine Art - Savannah, Georgia